Sun Country Highway
BRINGING SUSTAINABILITY TO LIFE
Sun Country Highway Ltd. is a progressive Canadian owned company leading the electric vehicle movement by raising awareness and promoting the adoption of zero emission transportation.
Our goal is to turn as many inefficient business models upside-down to create sustainable solutions and reverse their impact on our planet. Sun Country works directly with consumers, businesses, and government agencies to drive social, economic, and environmentally sustainable concepts.
More than a distributor, Sun Country Highway is a full service EV solution provider.
Sun Country has made it possible to travel across Canada with reasonable EV charge times through the deployment of a high powered Level II EV charging network. Our initial goal was to support the growth of Electric Vehicle Charging infrastructure in order to sustain the EV movement. This initiative has been, and continues to be, funded without outside investors or government incentives. To date, we are responsible for deploying thousands of charging stations throughout North America and have made it possible to travel from coast to coast, emission free.
Why Choose Sun Country
Sun Country Highway is a Canadian leader in the EVSE space. Globally, we have raised EV awareness by promoting the adoption of low emission vehicle transportation. Our experience, products, and EVSE expert consulting team make the difference.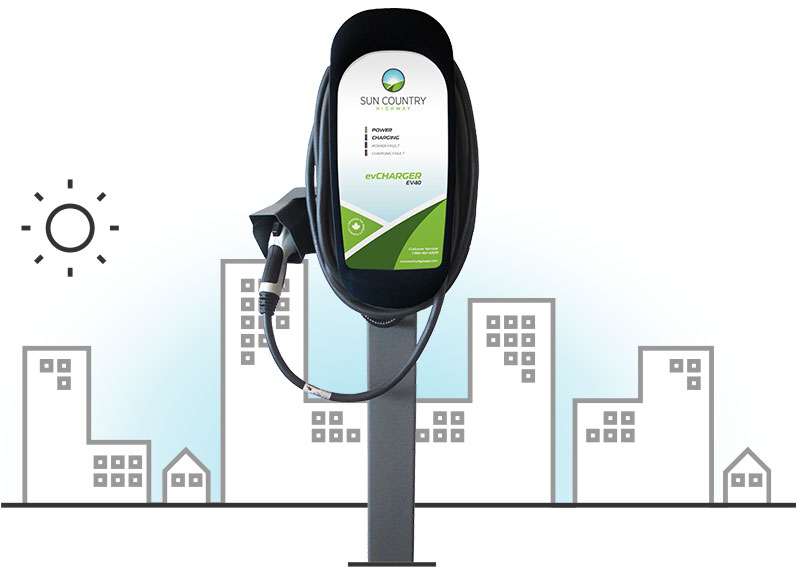 Products
At Sun Country Highway, we are proud to deliver disruptive and innovative technologies. All Sun Country products meet the highest quality safety standards. Let us help you meet your business goals with safe and reliable charging equipment.
Staff
Sun Country's friendly and knowledgable staff are here to help you. We offer expert consultation and advice to suit your needs. Contact doesn't stop once the sale is made. A Sun Country representative is just a phone call away for follow-up and support.
Charging Station Map
All public charging stations from Sun Country Highway are added to the EV Charger Map. With thousands of users every month, the map attracts visitors from all over the world, showcasing each charging location's green message. Relaunching soon!
Mission
Delivering disruptive and innovative solutions.
Essence
Making the Impossible Possible
Vision
People leading global change for a sustainable future.
Innovation - The Longest Greenest Highway - Canada's Path to Sustainability

The world's longest greenest highway is the longest network of free, high-powered electric vehicle charging stations in the world. The Sun Country Highway electric vehicle charging stations give Canadians the ability to travel emission free, from coast to coast, along the longest highway in the world, the Trans-Canada. Full connectivity was achieved in 2012, with the network consisting of:
80+ Free, public access, electric vehicle charging stations 
10,125 Kilometres of electrified  highway
Kent Rathwell set out to prove that socially, economically and environmentally sustainable transportation is possible. He demonstrated this by traveling across Canada in a purely electric vehicle, relying solely on Sun Country Highway's electric vehicle infrastructure. This trip shattered the myths of electric vehicles globally and promoted electric vehicles as a sustainable means of transportation option in a country as vast and rugged as Canada.
Media Events 76
News Stories 100+
Days    35
Sun Country Highway Changing Canada's EV Landscape
Okay... You're ready to do it. You're going to commit to an eco friendly car. They're more expensive than a gasoline engine vehicle, but since you drive a lot, the fuel savings will pay off in the end and your neighbours will be green with envy. There's only one problem- where do you recharge the thing, so that range anxiety doesn't become an issue? You're not alone. Our current lack of infrastructure is one of the biggest hurdles to getting people to jump to more eco friendly vehicles.
There are lots of companies now offering charging stations. Despite this, we just don't see them on every corner like gas stations. Not to mention, you can't exactly fill up in 3-4 minutes like you can at the pump. Even the home versions can be expensive, often in the $3000 to $4000 range.
A Saskatchewan based company called Sun Country Highway is working to improve the situation, hoping that the results will mean more people turn to eco-friendly vehicles. Among the company's strategic objectives for this year, Sun Country Highway wants to develop a national infrastructure for green vehicles, build awareness and educate people about the electric vehicle industry and to increase the adoption of electric vehicles in Canada.
To help meet these objectives, the company has developed "The World's Longest Green Highway Project". They installed a network of over 80 free charging stations from coast to coast, covering a span of 10,125 km, the longest span in the world. The charging stations are located at hotels, restaurants and tourist destinations. One hundred years after Thomas Wilby became the first man to travel across Canada by car, Sun Country's CEO Kent Rathwell repeated the journey, this time in an electric Tesla. The Tesla gets about 390 km per charge. The coast to coast trip demonstrated the potential of electric vehicles in Canada. Rathwell drove 10,000 km in an emissions free vehicle during winter weather.
As someone who has made the trip in a gasoline powered vehicle, I can attest to the fact that even gas stations can be few and far between along the Trans Canada Highway. Doing it in an EV is definitely impressive!
Sun Country Highway is hoping that the showcase will encourage more Canadians to get behind the wheel of electric vehicles. To further this agenda, the company also sells the charging stations. A fraction of the prices charged by many others, SCH chargers only cost as low as $600-$700 and the company claims that they will work with all electric vehicles.
Kudos to this little Canadian company, who is single-handedly changing Canada's EV landscape with fresh ideas about a concept who's time has finally come.
By Linda Aylesworth - autoExpert.ca